Quality, innovative design, and fair pricing are the three pillars on which Palayan's business stands.  It traces its beginnings to the manufacture of the popular hand-carved ladies' wooden clogs (bakya) in the mid-1940s.  Palayan adapted this demanding woodworking skill to the production of hand-carved lamps. 
Palayan Lamps store in the 1960s.
The import restrictions in the 1950s and the recognition of Orientalia as a serious design genre in the 1960s led to the innovative – and often necessary – adoption of indigenous raw materials such as
capiz
and other seashells, stones, hand-woven fabrics like abaca and pineapple cloth
(piña),
  rattan and bamboo, tooled brass, animal horn, local hardwoods, etc. to lighting fixture manufacture. 
Palayan earned a reputation for its ability to combine local materials with a formidable array of imported raw materials from Europe, the US, Japan, and lately, China.  All items are electrified using internationally-certified electrical components following established wiring codes.
Operations started in 1954 as a single proprietorship by Spouses Edmundo and Purificacion Lucero who both pioneered the post-WWII wooden clog manufacture.  The former was an architect and the latter, a school teacher.  Together, they saw a lack of capable lighting fixtures suppliers and thereby started the production of hand-crafted table lamps in their house workshop on A. Mabini St. in Ermita, Manila.  Production expanded from table lamps to ceiling fixtures, wall sconces, exterior lights, etc. to ultimately include any fixture that could be produced by skilled artisans.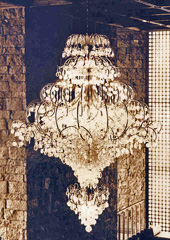 Capiz & Crystal Chandelier, Original Hyatt Regency Hotel, Pasay City
It was in this home shop that the first chandeliers of note in Manila, designed by Hongkong-based designers Dale Keller and Associates and National Artist for Architecture Leandro V. Locsin, were made.  These were the pendants for the original Hyatt Regency Hotel and the Cultural Center of the Philippines in Roxas Boulevard, Pasay City.  It also manufactured and installed the first Philippine-made chandelier overseas for the Philippine Center in Manhattan, New York.
Palayan was incorporated in June, 1979 after it transferred from A. Mabini to its present location in Guadalupe Nuevo in Makati City.  It is perhaps today only one of two surviving manufacturers among the several pioneers in the custom lighting trade.
Palayan has remained modest in size, committed to contract lighting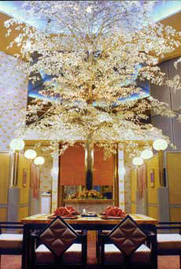 Glass Tree-Light, Yurakuen Japanese Restaurant, Diamond Hotel, Manila.
manufacture.  To this day, unlike its competitors who are principally importers, Palayan does not import completely built-up lighting fixtures but only components not produced in the Philippines.  These are typically crystals, glass, and electricals.  It currently employs some 60 permanent craftsmen in its 1,500 square meter factory in Guadalupe Nuevo, Makati, a city of Metro Manila.  These are divided into the following crafts: brass/ironwork, woodwork, capiz/shell craft, painting, shades, and assembly.  This employee complement expands by enlising temporary contract hires as need dictates.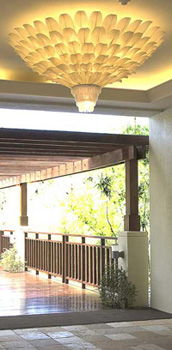 Resin Pendant, Anvaya Cove and Nature Resort, Bataan.
Management feels that this size allows sufficient control over the quality of its products that are mainly ordered on design. Therefore, despite obvious cost penalties, most work is still done in-house in contrast to the prevalent practice of using cheaper subcontractors.  On occasion, however, Palayan has satisfactorily tapped other reliable local manufacturers to help fill volume orders.  Palayan is, therefore, not constrained by its present size and remains confident of meeting volume orders.  In fact, its on-time delivery is well-recognized in the trade. 
Members of the Lucero family continue to personally manage the company and sales are concluded through two outlets in Makati City which simultaneously serve as product showrooms.  Owing to the nature of custom manufacture, Palayan Lamps is not present in Metro Manila's popular malls.
Capiz Pendant, Chi Spa, EDSA Shangri-la, Pasig City..
Being primarily a contract manufacturer, Palayan counts among its clients many  architects, interior designers and decorators, and a loyal base of local homeowners, a majority of whom belongs to the Philippines' elite.  Most of its customers are residential homeowners in number but institutions such as hotels, restaurants, and function buildings account for the bulk of its sales volume.
Palayan has executed contracts for commercial projects that wanted to depart from the not uncommon look of mass-produced imported lighting fixtures to make design statements.  In the trade, there is scuttlebutt that goes "if no one can do it, Palayan can."  In the past, it exported a third of its production mainly to the US, Japanese, and Australian markets.  Individual orders from Europe, the US, and Canada have also been frequently filled.
Thus, in addition to the countless residences in Manila, the US, Tokyo, and Sydney that are lit by its products, Palayan is proud to have rendered creations for many renowned institutions in the Philippines and abroad.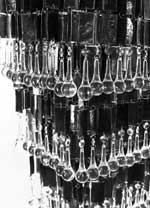 Black Capiz& Crystal Pendant.
Palayan values the reputation that it has earned in the more than half a century of lighting fixture manufacture.  This recognition did not come cheap; it was not unusual that finished one-of-a-kind items did not meet either Palayan's or the client's expectations of quality or "look" that they had to be redone, and in some cases, repeatedly.  In summary, Palayan allowed some latitude to its clients to be creative at a production cost sacrifice.